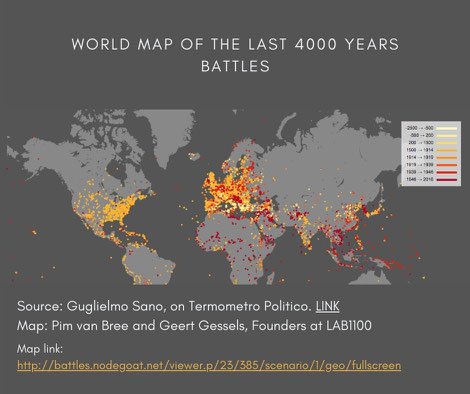 APPEAL!!!
I ASK YOU FOR HELP TO ACTUALIZE A PROJECT 
<3 
<3 
<3 
<3 
<3
9 years ago, after overcoming the unthinkable, I had a vision: Europe resting on a swollen crystal floor, under which an emotional magma was ready to explode. And this would have brought violence, uncontrolled explosions, and chaos. 
And then, during long journeys, I had other understandings,including the origin of this: the side effects of the emotional memories derived from having lived terrible experiences during the many battles.
This morning I saw a post showing, through this map, how this area was a volcano of conflicts, giving us an immediate understanding of it.
We must heal our emotions and release our conflicting modalities, YESTERDAY
There is a project ready to make it POSSIBLE 
If it wasn't understood 8 years ago, it can be understood NOW.
We can prevent and manage depression, anxiety, stress, anger, fears, sleep disorders, burnout, suicidal tendencies, and free ourselves from suffering, even experiencing difficult situations and crisis.
Light and darkness are part of creation, we can vibrate above the darkness
If the strategies and techniques that have been applied have helped me, I can guarantee you that they can help everyone.
Thanks to this I was able to understand in advance what we would find ourselves facing with, and then I also had the intuition of an ANTIDOTE project.
I am looking for HELP to implement it. Telling you LET'S DO IT TOGETHER!
It certainly isn't perfect, we can improve it. And for sure it could be better to start 8 years ago, but if we have not started so far, the second best moment is today, so that we can act before the floor completely crumbles, and the contagiousness of negative emotions and thoughts takes over as explosive magma volcanoes.
This vision was then integrated with the Master Del Pe's vision, which he shared a few years later, about global changes that our planet, and consequently all living beings, are preparing to face with, for which are needed willpower, above all GOOD WILL, food reserves, security, safety, new skills, and hopefully new rural business models.
Last but not least the alignment to our Highest Purpose, that with the good will, and the will to good are the most important tools to successfully navigate even in storming seas.
where to start?
According with the intuition,
and also confirmed by the feedback received, we must start from a research project that requires:
🔸 A group of volunteers to test the practical strategies and the method (they have been widely tested for 30 years, but it is needed to show an official study on these specific topics. Differently we already have an official study on drugs and alcohol addictions that people have overcome in 45 days).
🔸 A researcher/medical doctors team to observe and note the results, and to validate the scientific study.
🔸 People that want to study to then work as facilitators and specialists / trainers.
🔸 Technological support
🔸 Communication, video interviews, testimonials.
In the meantime we also need
🔹 Who knows how to submit a request for funds for a EUROPEAN research project
🔹 Funds, Foundations, Business Angels, Philanthropists Research.
👉 Until the FUNDS arrive, our commitment will be on a voluntary basis.
If you were to think you couldn't help, you could be not enough, or. . . OK. SOMEONE WILL DO IT, please note that I spent years wondering if I was up to it, and years seeing that if I didn't do it, nobody did.
Today I say "better done than perfect"
Thank you for being part of it 🙂🙏
Thank you for sharing 🙏🙂 

Monthly Newsletter Subscription
Just subscribing you will receive the access to 2 videos with 5 minutes exercises combined with special breathing techniques of JustBE alive™ program, plus  20 minutes self-healing from JustBE free™ meditation. 
Angie Claire.
Life Expert e Spiritual Mentor,  Business Executive Coach, world-class expert on overcoming difficult situations and will-power development. Bio