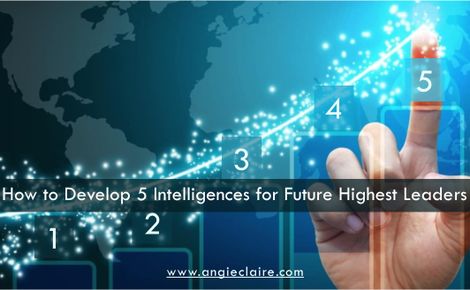 In front of new problems, we need new tools!
According with my experiences, one of the most important strategy for Future Leaders, is to develop 5 (on 7) ascending levels of intelligence. This is a "You have to do" step, to aquire and to truly manifest the indispensable qualities to  succesfully navigate also in storming seas, accelerating your and your collaborators', companies', families' and Countries' growth, versus be pushed down.
Future Leaders need to sustaine an excellent physical, vital, emotional, and mental health. To be SMART, resilient; creative; To develop a lot of will-power to be incorruptible and persistent. They have to integrate: flexibility, courage; passion and at the same time detachment (DISPASSION); Ability of vision and wisdom, pragmatism. They must have excellent decision-making. Loving intelligently, being free from any attachments. 
JUST A WONDERFUL TEAM IN ONE PERSON plus a little bit of superhero
HOW IS IT POSSIBLE?
According with the day to day needs, Master Del Pe designed a special sequence of Self-Management Strategies available now, applying easy and autonomous practical techniques, that enable to naturally develop these 5 levels of intelligence, manifesting more advanced qualities, as an example:
♦ INSTINCTIVE INTELLIGENCE. Rhythm and Timing. It improves a better decision-making to take quick decisions at the right time and to immediately execute them, increases and supports the vital energy. One of the secrets of sustainable anti-aging and longevity.
♦ EMOTIONAL INTELLIGENCE. Heart and Immune System. To live sense of peace and satisfaction in the workplace and at home, it improves the ability of team-working and team-building, develops empathy, inclusiveness and acceptance. Boosts the immune system.
♦ MENTAL CONCRETE INTELLIGENCE.  Projectuality and Analytical Mind. Increases the detailed logical analysis skills and a structured schedule and the capability to create sequences. it improves communication and expressive skills. Regulating weigth and metabolism.
♦ MENTAL ABSTRACT INTELLIGENCE. Vision and Focus. It allows the vision of the big picture and the ability to focus on the end game, increasing the mental will-power and the ability to synthesize the experiences into guidelines and paradigms.
♦ INTUITIVE INTELLIGENCE. The North Star. It stimulates precursor and intuitive thoughts to be inspired at the highest level and to make the best choices to avoid crisis, and to plan the longest term projects. It develops intuition, wisdom, universal love and dispassion.
And what about a world where people integrate these qualities, and manifesting them spontaneously, bringing them into daily choices, in making laws, as well as in families? A world where ethics, respect and the highest good are spontaneously acquired values, and no longer rare qualities?
SO, WHAT HAVE WE TO DO, TO DEVELOP THEM?
Easier than you can imagine.
A special synergy created by Master Del Pe, including bio-mechanical movements, synthesis martial arts, breathing techniques, and meditations, spontaneously generates the balanced development of higher levels of consciousness, also improving the life quality.
WORKSHOP ONLINE ON DEMAND by Master Del Pe: ""5 Intelligences for Highest Future Leaders"
To find out more about these and other topics, please contact me, to experience some of the immediate benefits, in a free consultation via Skype. You can also experience 2 videos here
Best! Angie :)
Related articles:
 NOTE. If you wish to receive a reply to your comment please, insert your email address into the "website" box. Thanks. Your data will be processed only for the specific purpose. Privacy policy