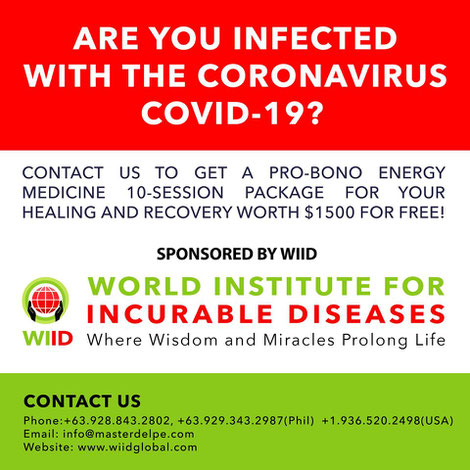 World Institute for Incurable Diseases (WIID) offers a Free Energy Medicine package to people infected with COVID-19. 
Each package includes 10 online sessions worth $ 1,500.
ONLINE WORKSHOP: As COVID-19 increases globally, equip yourself with the necessary tools to boost your immune system to avoid the Coronavirus and how to heal you and your loved ones when you are sick. 
HIGHLIGHTS
Learn Energy Shield to protect yourself and your loved ones

Experiment Practical techniques, to quickly release anxiety, fear, or parnoia.

Boost your Immune System

Know the right food and life style to prevent covid-19

Learn how ot stay away from negative karma

Learn the lessons the covid-19 brings to humanity.
Educate yourself on why energy medicine science is the leading solution for today's crisis, with Master Del Pe.
When
Available Online. 4 Hours  Webinar
You Webinar link will be active for 1 week, to repeat it more times.
Investment-Donation
$ 100 every individual participant
$ 75 every succesive added member for group/family orders
Info & Registrations
Buy the Webinar Now
30+ Years Research & Expertize
Master Del Pe researched and experimented with Energy Science and Striking healings for the Immune System, as well as the Spiritual Psychology of incurable diseases,  later succesfully applied in a systemic way,  as a science,  fighting HIV/AIDS and not-responding to medical treatments diseases. By approaching the COVID-19 pandemic crisis it will be applied similar protocols.
World Institute for Incurable Diseases

Against COVID-19 it will be applied protocols similar to the already used on HIV/AIDS ones
World Institute for Incurable Disease Against HIV/AIDS in Africa. Learn How BEwell Science Distance Healing System works.
Novel Solutions for the Novel Coronavirus
Master Del Pe shares his thirty years of experience in the healing of incurable diseases and explains how governments can respond to COVID-19 and prevent doctors and healthcare workers, plus citizens,  from infections with the new coronavirus.
Rescue Covid Patients
Angie Claire.
Life Expert e Spiritual Mentor,  Business Executive Coach WILGA, esperta internazionale nel superamento di situazioni difficili, sviluppo di forza di volontà e resilienza. Bio
Iscrizione alla newsletter mensile
Subito per gli iscritti 2 video con tecniche dei programmi di auto-cura JustBE alive™, e la meditazione di auto-guarigione JustBE free™.