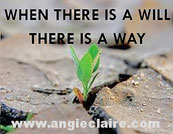 QUANDO C'E' UNA VOLONTA' C'E' UNA VIA.
La forza di volontà è uno dei 3 pilastri indispensabili per l'equilibrio.
L'amore da solo non è più sufficiente. Quante vittime in nome dell'amore! ... 
Will power is one of the 3 pillars necessary for balance.
Love alone is no longer sufficient. How many victims in name of  ONLY Love! ... 
... Prendersi la responsabilità della qualità della propria vita passa anche per lo sviluppo di questa qualità.
Puoi sviluppare rapidamente la forza di volontà con alcune semplici tecniche pratiche e autonome BEwell Science™.
Contattami per una consulenza gratuita :)
... The quality of life also depends on the development of will power .
You can easly and fast develop it with some of the practical self-making techniques of BEwell Science™ System. Let's start with your 30' FREE  oline consultation! :)
---
---
Angie Claire © 2016. Tutti i diritti riservati. All rights reserved.